Washington Huskies basketball team snarling through the Pac 12 season . . . hopefully they'll win ONE game in the NCAA tournament.  My Golden State Warriors doing well, but what's up with not being able to beat the Rockets in the regular season?  Playoffs will be great . . . again.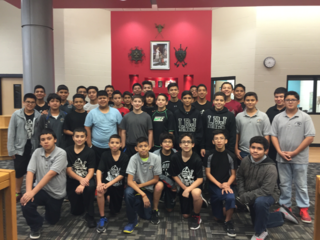 The book "Swagger" by Carl Deuker inspires a Basketball Tournament at LBJ!
Basketball teams were formed by the boys that read the book "Swagger". Several of the boys shared the book with an adult male in their lives and invited the adults to play the friendly basketball tournament with them. Our sincere thanks to these adults ( uncles, teachers, dads, brothers) for encouraging the boys to read.